Support our work
by making a donation, or join us through volunteer, pro bono, employment, and internship opportunities.
Columbia Legal Services (CLS) represents communities facing poverty and oppression, and we use every legal tool available on their behalf. CLS has a special responsibility to serve people whose access to free legal services is restricted, due to institutionalization or immigration status. Through impact litigation, policy reform, and innovative partnerships, our staff works together to further our mission to achieve social and economic justice for all, and to reveal and end actions that harm the communities we serve. We share a deep commitment to serve and advocate alongside our clients as we seek justice together.
Our vision of justice: when people have the necessary tools and opportunity to achieve social and economic justice, a more equitable and inclusive society is possible. The ideal candidate for any position at Columbia Legal Services will be able to articulate their role in the achievement of that vision. CLS actively seeks and supports a highly qualified, diverse, inclusive, multi-culturally competent workforce.
Due to COVID-19, CLS staff are working from home, with few exceptions.
Current Openings:
Application Process:
If you are interested in a position at Columbia Legal Services, please apply to:
Allyson Fredericksen, Human Resources Director
Columbia Legal Services
101 Yesler Way, Suite 300
Seattle, WA 98104
careers@columbialegal.org
Please mail/email your application or any other inquiry to the above address. Human Resources will contact you should an opportunity to interview arise. We keep resumes on file for three years. If you wish to update your resume, please notify us in writing.
Please see our program policy for more information about hiring practices and recruiting.
Sign up for our email list to make sure you get updates on our continued fight for justice.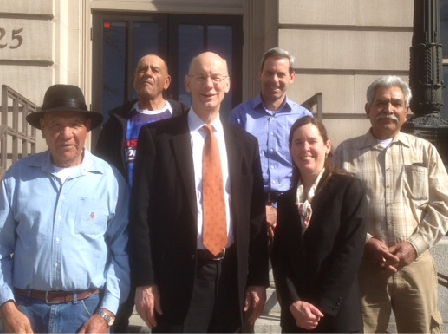 Columbia Legal Services is grateful for the contributions of dedicated volunteers. Past volunteers include attorneys, law students, and other people interested in being part of our work. If you are interested in joining us as a volunteer, please contact us.
Columbia Legal Services (CLS) is also funded through generous grants and donations from the following:
Campion Foundation

Elder Law Section of the Washington State Bar Association

Seattle Foundation

Thomas V. Giddens Jr. Foundation

United Way

Anonymous
CLS does not charge its clients fees, as the clients are unable to pay attorneys fees. CLS sometimes receives attorneys fees in cases in which those fees by law are paid by opposing parties because CLS's clients have won the case. Because we do not receive fees in most cases, we depend upon grants and donations to sustain our work.    
Your contribution helps support our work toward a more equitable system where everyone enjoys full human rights and economic opportunity. If you're an attorney in Washington State, you can support our work by donating to the Campaign for Equal Justice, our state's annual giving drive sponsoring the work of CLS and our partners in the Alliance for Equal Justice.
You can also help Columbia Legal Services achieve its vision of social and economic justice for all by making a direct contribution to CLS.
Columbia Legal Services is tremendously grateful for the generous assistance of our pro bono partners who have donated thousands of hours of attorney time in support of our work. If you would like to join us in this effort, please contact us.
Big thanks to previous Pro Bono partners!
Baker & McKenzie
Jessica Brown
Corrie Yackulic Law Firm PLLC
Tim Farris
Frank Freed Subit & Thomas LLP
Garvey Schubert Barer
K&L Gates
Leen & O'Sullivan
MacDonald Hoague and Bayless
David Mark
Melissa Huelsman Law Office
Paine Hamblen
Perkins Coie LLP
Public Interest Law Group PLLC
Riddell Williams
Schroeter Goldmark & Bender
Marya Silvernale
Sirianni Youtz Spoonemore Hamburger
Starbucks Corporation, Legal Department
Winston & Cashatt
Dan Young