I recently visited the Legacy Museum in Montgomery, Alabama with our Executive Director Merf Ehman and a group from the Access to Justice Board, the Endowment for Equal Justice, and the Legal Foundation of WA. When I arrived, I did not know what to expect. As an African American, I am often triggered by discussions about slavery as it is a constant reminder of the brutality my ancestors endured and how we all collectively benefit from their treatment.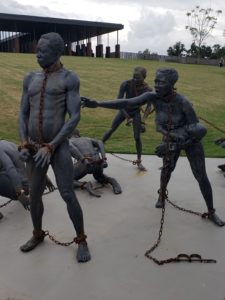 As I walked through downtown Montgomery, I retraced the path of my ancestors – down Commerce Street from the banks of the Alabama River to the Court Square fountain, the former site where Africans were sold into slavery in the heart of the city. This dark history echoed through the distance, yet there was little public mention of this narrative. It is now hidden under beautiful Artesian sculptures and tourist attractions.
Being in the museum was like walking into a house of mirrors. Seeing my likeness depicted and treated as livestock, property, and criminals was awful, but more frightening was the clear parallels between slavery and our current prison system. The 13th Amendment abolished slavery but also allows it to continue under the auspices of justice. Those who are in jail and prison are continually subjected to low or no wages, long work hours, and inhumane conditions.
We cannot discuss mass incarceration without acknowledging its racialized legacy of slavery; and we must no longer speak of the monstrosities of slavery and ignore mass incarceration. Written on a wall in the museum was: "You are standing on a site where enslaved people were warehoused." It is a sobering reminder of how far we've come and how far we still have to go.
At Columbia Legal Services, we work to undo institutional racism through the anti-racist principles of the People's Institute for Survival and Beyond. Through meaningful community relationships, we are working to de-silo legal aid to better support the efforts of the community. By partnering with community, we bring light to the effects of mass incarceration on families and communities.
For Columbia Legal Services to continue to do this essential work, we must all do our part. This is your opportunity to do yours. Because we stand with, learn from, and represent people who are incarcerated and those who are undocumented, we are limited in our funding streams. If you believe our work is important and want it to continue, we need your support. Help us challenge structural racism and continue to fight to end mass incarceration.
With gratitude,
Travis Andrews
Director of Equity and Community Engagement